At 350 acres, Delaware Park was the largest of the three original parks and was a landscape that Olmsted and Vaux called a "country park".
Designed: 1868-1870 by Olmsted & Vaux  |  Location: Bordered by Delaware, Elmwood & Parkside Avenues, Amherst Street, Nottingham Terrace, Rte. 198 & Rumsey Road.
This park was created as a setting for passive recreation in surroundings that evoked an ideal rural world. A rolling meadow dotted with trees and surrounded by woods formed the eastern portion.  Olmsted said: "There is no more beautiful picture than that of a beautiful meadow, over which level-armed sheltering trees cast broad shadows." Located west of Delaware Avenue, Olmsted and Vaux created a picturesque lake for boating in summer and skating in winter by damning the Scajaquada Creek that flowed through the site.
Olmsted had predicted that Delaware Park was destined to take a "distinguished position among the parks of the world."  Significant features of this historic landscape are an 18-hole public golf course, the Mighty Oak, the Parkside Lodge, located on the Meadow or eastern side of the park. On the west, or Water Park as Olmsted named it, is the Japanese Garden, the Marcy Casino, the Rose Garden, a playground and a path that winds its way around Hoyt Lake.
Explore Hoyt Lake on a row boat!
The 2023 season will be June 5 & 19 July 3 & 17 August 7 & 21.  Starting at 6:30 PM, a 30-minute beginner dance lesson is offered at each event in either Salsa, Bachata, or Merengue. From 7-9 PM, enjoy open social dancing to merengue, bachata, salsa, timba (Cuban salsa), cha cha cha and kizomba. No partner necessary.  Beginners welcomed and encouraged.
Tickets are sold online and will be released the day of each event at 4 PM.  Purchase your ticket here: www.sarahhaykel.com/salsainthepark2023/
The event may be cancelled due to inclement weather. This park activity is facilitated by Salsa for the Soul.  To reach us, please email Sarah at sarah@sarahhaykel.com or call 716-980-7851.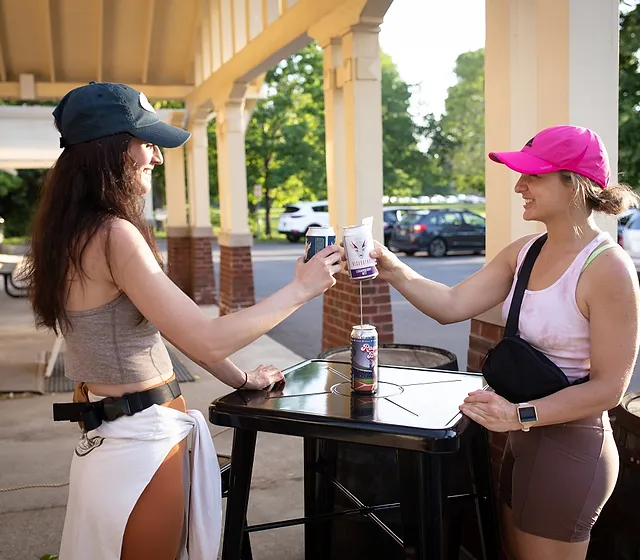 The 2023 season will be from May 24th to September 16th. Hours: Wednesday – Friday's 4pm to 9pm, Saturday 11am to 9pm, Sundays 12pm to 5pm.
For more information please visit: https://www.resurgencebrewing.com/locations
The 2023 season will be 'Measure for Measure' from June 22nd to July 16th and 'Romeo and Juliet' from July 27th to August 20th.  Performances begin at 7:15PM, Tuesday-Sunday evenings. All performances are FREE, non-ticketed and open to the public. Guests are encouraged to bring a blanket or chaired seating.
Please visit https://shakespeareindelawarepark.org/mainstage/ for more information
The Terrace and Rose Garden
Support Your Parks
Our members are the core of the Buffalo Olmsted Parks Conservancy. With your unrestricted gift to the annual fund, our dedicated team takes care of the 850 acres of Olmsted green spaces in Buffalo. We count on your financial support to keep the Olmsted Parks clean, open spaces where Buffalonians continue to play, exercise and enjoy nature together.
(1) 18 hole Golf Course
(3) Baseball/Softball Diamonds
(6) Football/Soccer/Rugby Fields
(2) Lawn Bowling Courts
(17) Tennis Courts
(4) Basketball Courts
(3) Playgrounds
(17) Picnic Tables
(1) Picnic Shelter
The Buffalo Olmsted Parks Conservancy is responsible for the rental of the Parkside Lodge, the fenced picnic area next to the Parkside Lodge, croquet courts in Delaware Park, the Japanese Garden in Delaware Park and the Crotty Casino in Cazenovia Park.
The Marcy Casino and Rose Garden in Delaware Park is rented through Magnolia Events.
FINDING YOUR WAY TO THE PARK