Nurture. Grow. Sustain.
Buffalo Olmsted Parks Conservancy's South Park Arboretum Restoration Project (SPARP)
An Outdoor Museum of Trees
In 1901, during the Pan American Exposition, Buffalo was celebrated not only as the City of Light, but also the City of Trees. This is thanks to the father of American landscape architecture, Frederick Law Olmsted, and his visionary design of our nation's first urban park system.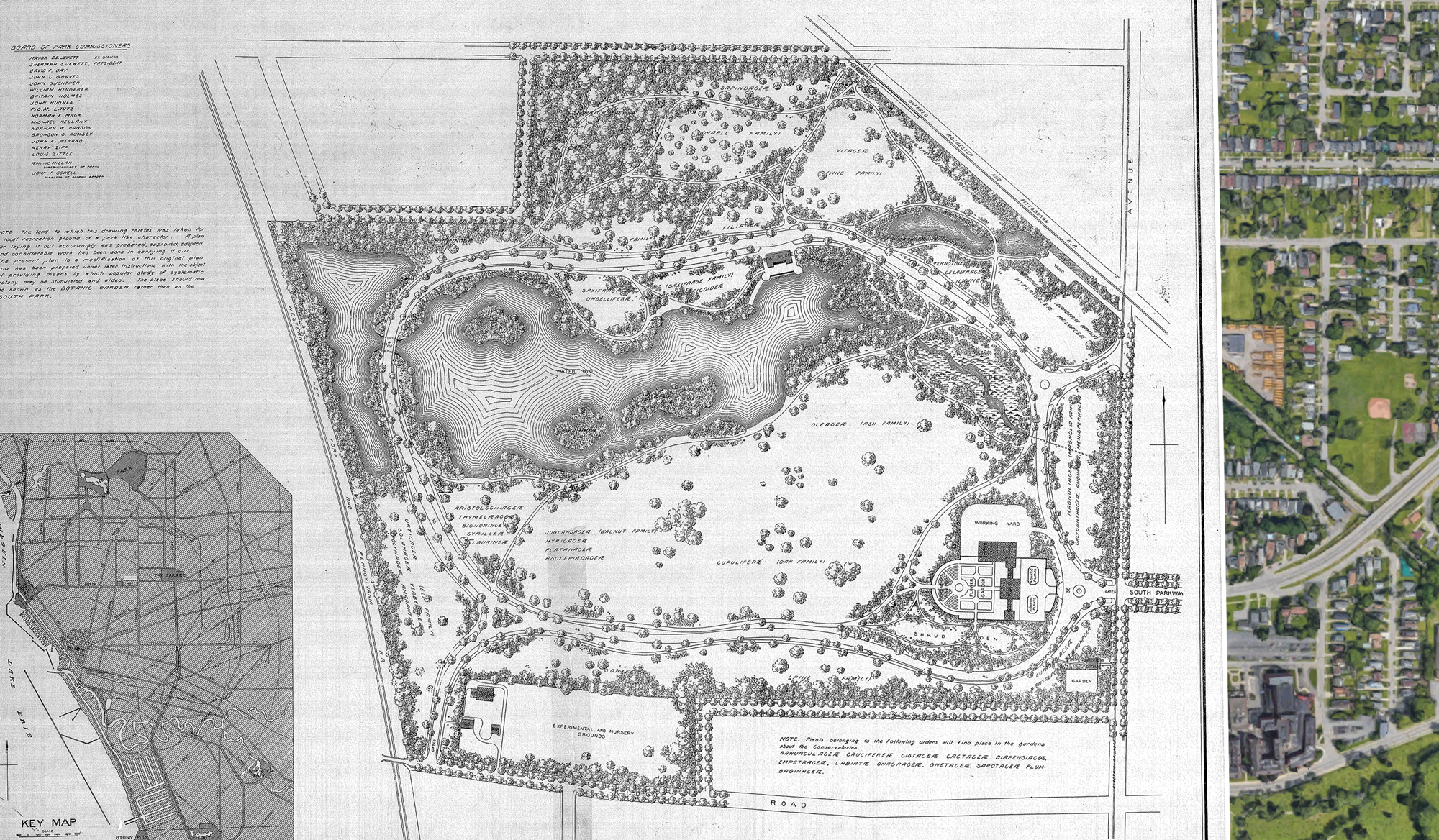 Despite deferred maintenance and loss of many initial plantings, the original design has historic landscape integrity. The plant collection at South Park Arboretum was originally organized by botanical family per the Bentham and Hooker classification system and is recognizable through trees in the Locust, Elm, Oak and Conifer families today. Many character-defining Olmstedian landscape features remain intact and with an influx of tree care and concerted efforts to plant and maintain 5000+ new plants the original design can be honored and restored.
View brochure
Today, arboreta provide outdoor opportunities for educational programming, scientific research and environmental conservation. They are attractions for families, organizations and tourists, while contributing inherently to water, soil and air quality, as well as wildlife and pollinators. These values all add to quality of life, health and the economy. The South Park Arboretum Restoration Project seeks to restore this community asset and ensure its viability for years to come.
In 2018, the Conservancy and its partners completed a feasibility study to conclude that returning Olmsted's arboretum to South Park is both possible and beneficial to the community. To view/download the complete study, please click the button below.
View full study
Phased Restoration Progress (11-phased approach)
Phase 1 of restoration was completed in 2022 with the successful pruning of over 500 trees, the removal of 200 dead trees and the removal of approximately 50 stumps which improved the overall safety of the park.
The development of the South Park Arboretum Nursery Complex is part of the second phase of a comprehensive, long-term 11-phased project.
As part of a multidiscipline design team, Hoerr Schaudt is producing the conceptual design plans for the proposed South Park Arboretum Nursery Complex that reflect Olmsted's design principles of comprehensive approach, genius of place, unified composition, orchestration of movement and use.
Hoerr Schaudt's work will contribute toward BOPC's vision of restoring the South Park Arboretum while creating a new community gateway to South Park Arboretum on the Ridge Road corridor.
The South Park Arboretum Nursery Complex will welcome the public into the Arboretum and will include a tree and woody shrub container nursery, equipment storage, educational spaces, and offices for the Curator, operations staff, and future team members.
Establishing a container nursery will be a crucial step for allowing South Park Arboretum to store, procure, grow and accept trees from various establishments.
The container nursery will also allow the arboretum to store woody shrubs and other smaller species that could be installed more rapidly.
As part of Phase II efforts 500 plants (150 trees and 350 shrubs) will be added to the plant collections including the Locust, Holly, Linden and Magnolia families.
Historic Strolling Pathways:
Phase II includes installation of strolling paths that are original to Olmsted's design.
Restoration of the strolling pathways will encourage Arboretum visitors to experience plants at eye level and welcome a more robust experience for park patrons.
This will also provide access for arboretum visitors to experience the trees close-up.
Incorporating a picnic area is also a significant amenity that South Park is currently lacking. This would provide users with a place to gather and would create more of a draw for the community.
South Park Arboretum Plant Finder
Join BOPC in restoring Olmsted's South Park Arboretum!
Make a donation and/or sponsor the South Park Arboretum Restoration Project to ensure that this important community resource is available for generations to come. To learn more, please contact:
Catie Stephenson, Chief Development & Communications Officer. Catie@bfloparks.org or (716) 838-1249, ext. 22.
Margaret Lapp, South Park Arboretum Director and Curator. Margaret@bfloparks.org or (716) 628-7444.
Give Online Today
Support SPARP
How to Plant a Mossycup Oak
South Park Arboretum has secured Level One Accreditation by The ArbNet Arboretum Accreditation Program and The Morton Arboretum.
The accreditation is awarded for achieving standards of professional practice deemed important for arboreta and botanic gardens. The ArbNet Arboretum Accreditation Program is the only global initiative to officially recognize arboreta at various levels of development, capacity, and professionalism. Buffalo Olmsted's South Park Arboretum is also now recognized as an accredited arboretum in the Morton Register of Arboreta, a database of the world's arboreta and gardens dedicated to woody plants!